Core Four Starter Kit
Regular price

$55.00

Sale price

$55.00

Unit price

per
Share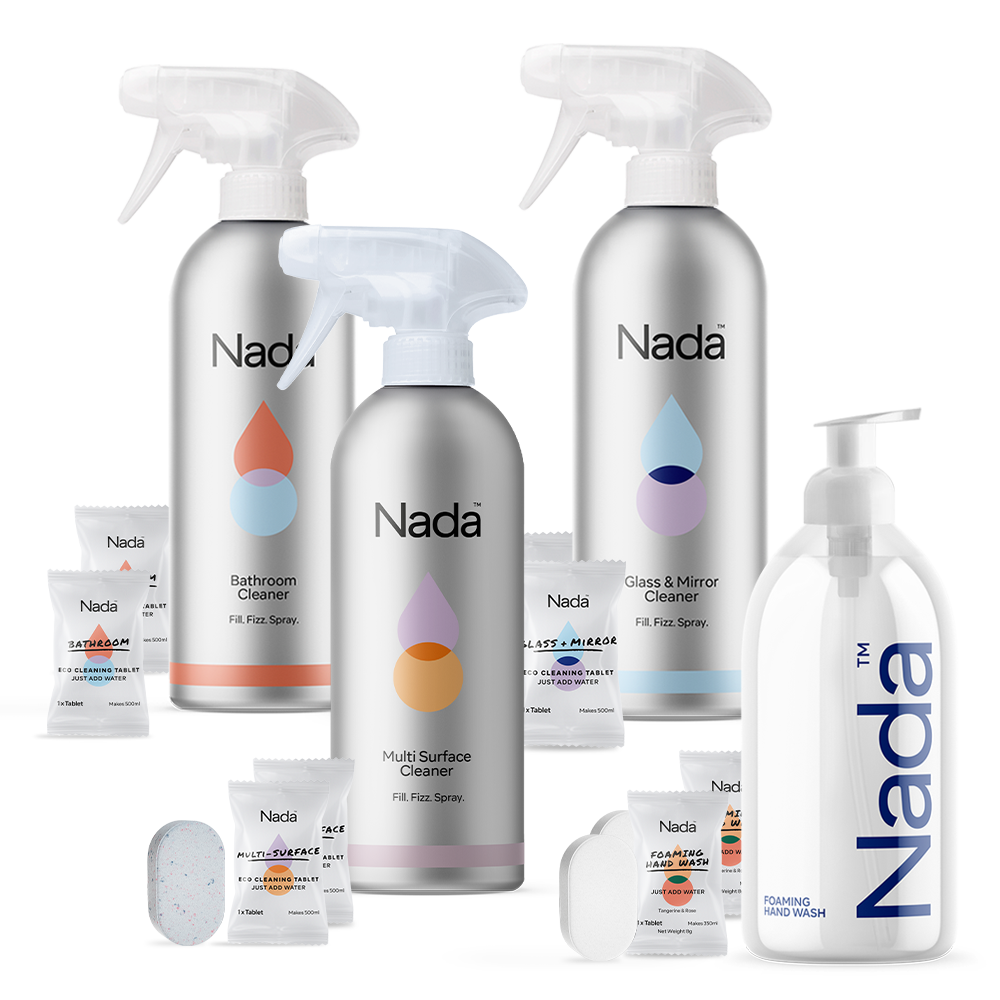 The Core Four Starter Kit gets you started with our full range of refillable bottles and tablets ready to get your cleaning A Game on. 
Simply fill one of our refillable Lifetime Bottles with tap water, drop in one of these Glass & Mirror Cleaner refill tables in, let it fizz... and you're good to go!

The Core Four Starter Kit Includes:

1 x

 

Bathroom Cleaner Refillable Lifetime Bottle
1 x Multi-Surface

 

Refillable Lifetime Bottle

1 x Glass & Mirror Refillable Lifetime Bottle

1  x Foaming Hand Hand Wash Lifetime Bottle

3 x

 

Bathroom Cleaner Refill Tablets
3 x

 Multi-Surface

 Cleaner Refill Tablets
3 x

 Glass & Mirror

 Cleaner Refill Tablets
3 x Foaming Hand Hand Wash Lifetime Bottle
Tablets measure 20mm x 33mm x 10mm and weigh 8 grams
Our tablets are packed in biodegradable kraft wrappers
Bathroom Cleaner:
The Nada Bathroom Cleaner is formulated to cut through dirt and grime without harmful chemicals. From shower tiles, toilets, and tubs, each spray of Nada Bathroom Cleaner is tough on soap scum and mildew stains, but gentle on the environment.
Glass & Mirror Cleaner
Nada Glass & Mirror Cleaner help your reflective surfaces sparkle and shine! From windows or glass to stainless steel, and more. Mild Fragrance. Naturally Moisturising.
Multi-Surface Cleaner
Nada Multi-Surface Cleaner is the perfect all-around cleaning partner for your home. Made with sustainable natural ingredients, our Multi-Surface Cleaner gives you sparkling clean without leaving behind any nasties for your home and for the environment.
Foaming Hand Wash
Our Foaming Hand Wash is formulated to be tough on dirt but gentle on the environment and your hands.
As part of Nada's pledge to eliminate single-use plastics and promote sustainability, Nada has designed all products to be ethically sourced and sustainably manufactured using natural and synthetic ingredients inside independently audited sustainable facilities.

As part of our commitment to sustainability, Nada pledges to donate at least 50% of our profit to help look after the beautiful coastlines and waterways through Sustainable Coastlines and to also aid in reviving Kiwi forests through Trees That Count.

Nada is a proud supporter of 1% For The Planet – every year we will donate at least 1% of revenue to environmental causes.

Nada is a climate-positive company and we believe in leaving the world better than we found it. All emissions we generate are offset to at least 120% based on a yearly independent audit by Ekos.
Great products that do work
As above. Would recommend
Nada review
Love 3 out of 4 items. The glass cleaner sadly does not work well. Had to redo with my old glass cleaner. Does not cut thru dirt so leaves smears. Love the other items 100% x
Family review of Core Four
Enjoying the Nada kit so far, great idea to reduce waste.
Glass & Mirror definitely the best in the kit, works well on glass and even chrome.
Foaming hand wash feels gentle, but one had reported a tingle sensation from the soap.
Multi Surface and Bathroom cleaner seem less effective than the Glass cleaner, although both smell nice, don't feel like they are lifting much dirt.
but, as a pack it's working well so far.
Thanks
Great service possible improvements
Small dent in one of my bottles, foaming soap pump stopped working after a short while, liquid leaks out nozzle of bottles if not turned to close mode.
Got replacements of bottle and pump in timely and happy manner
Core four kit
What great products. I love that I don't have to replace bottles anymore, always bugged me. Just drop in a tablet. Great idea.
Note: Due to continual improvement, product look may vary from shown photos above. All weights and dimensions stated are only approximates.
Choosing a selection results in a full page refresh.