Nada Enzymatic Laundry Sheets
Regular price

Sale price

$20.00

Unit price

per
Share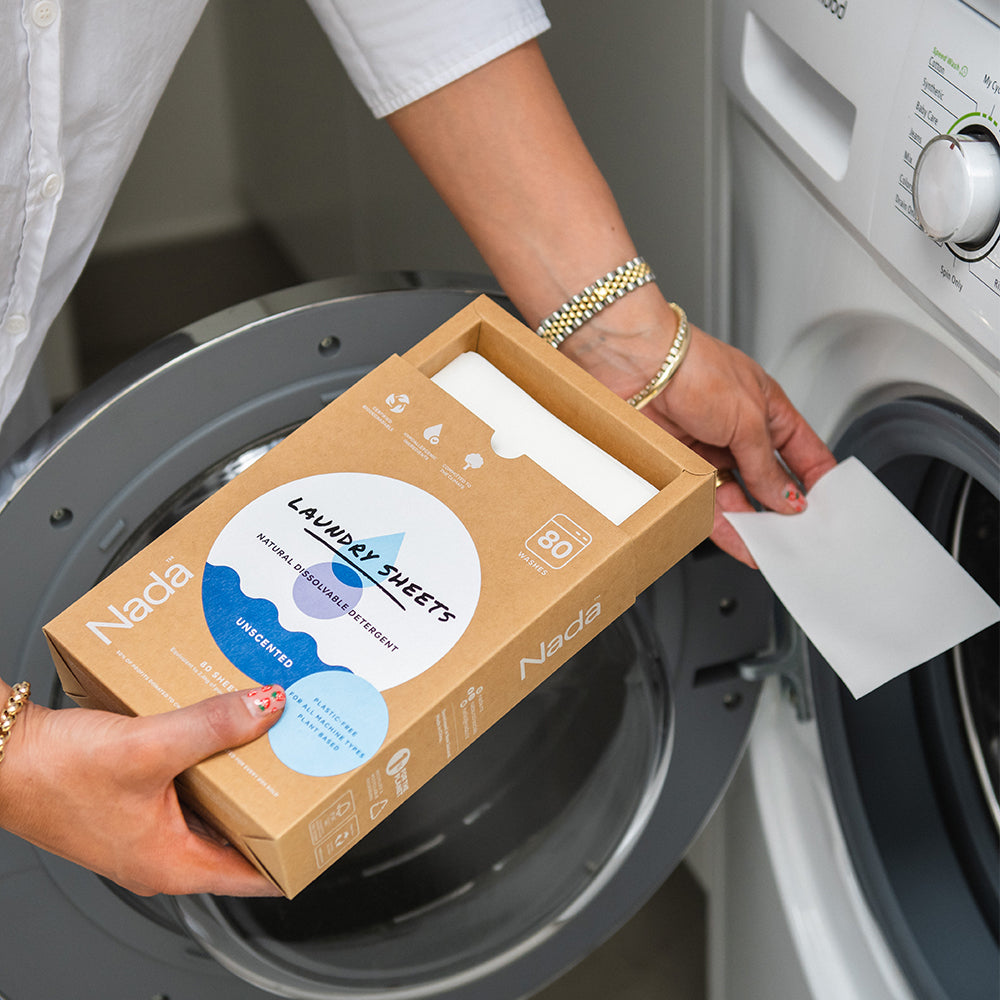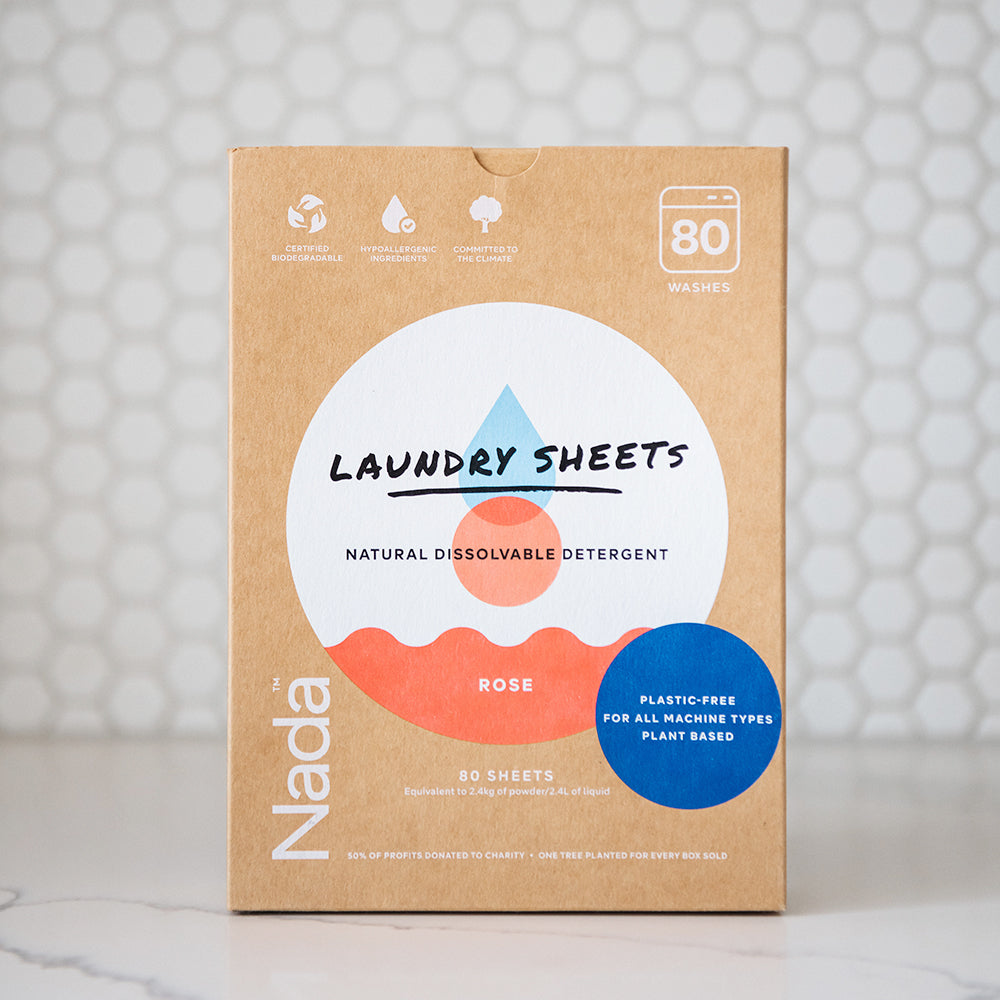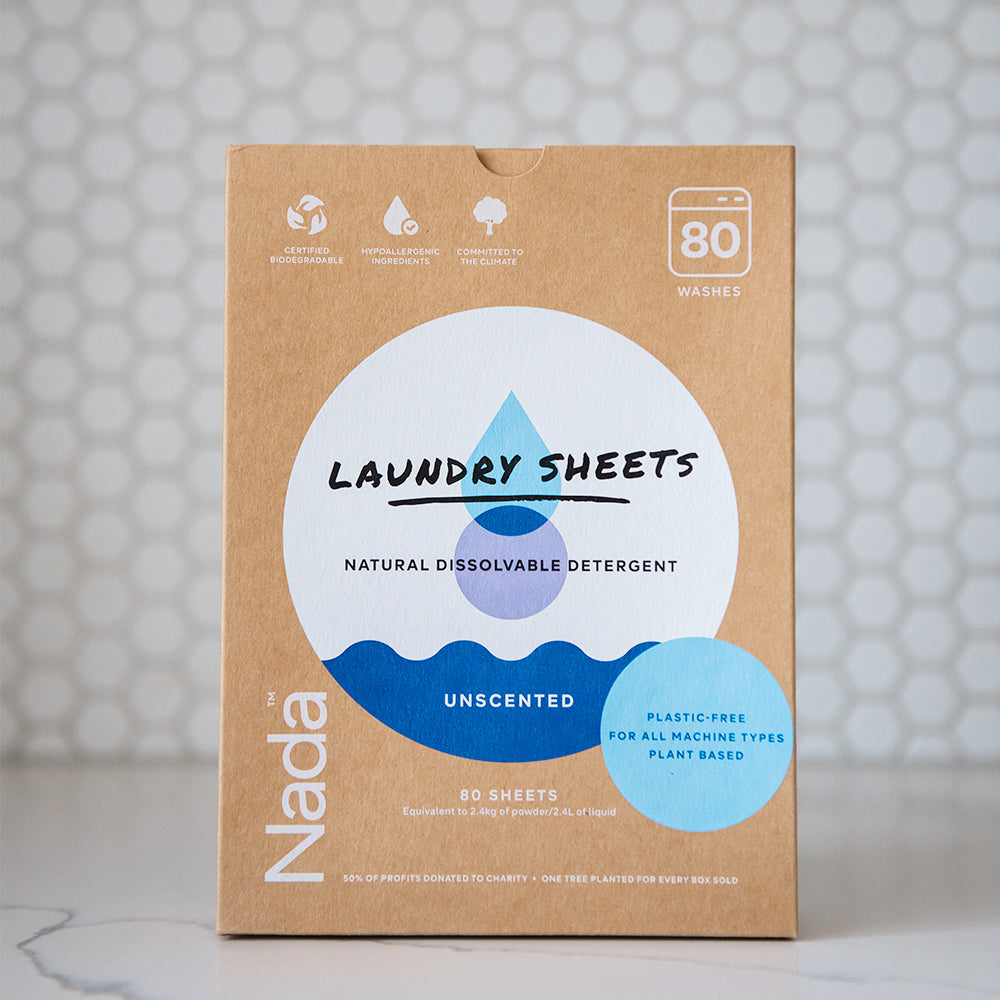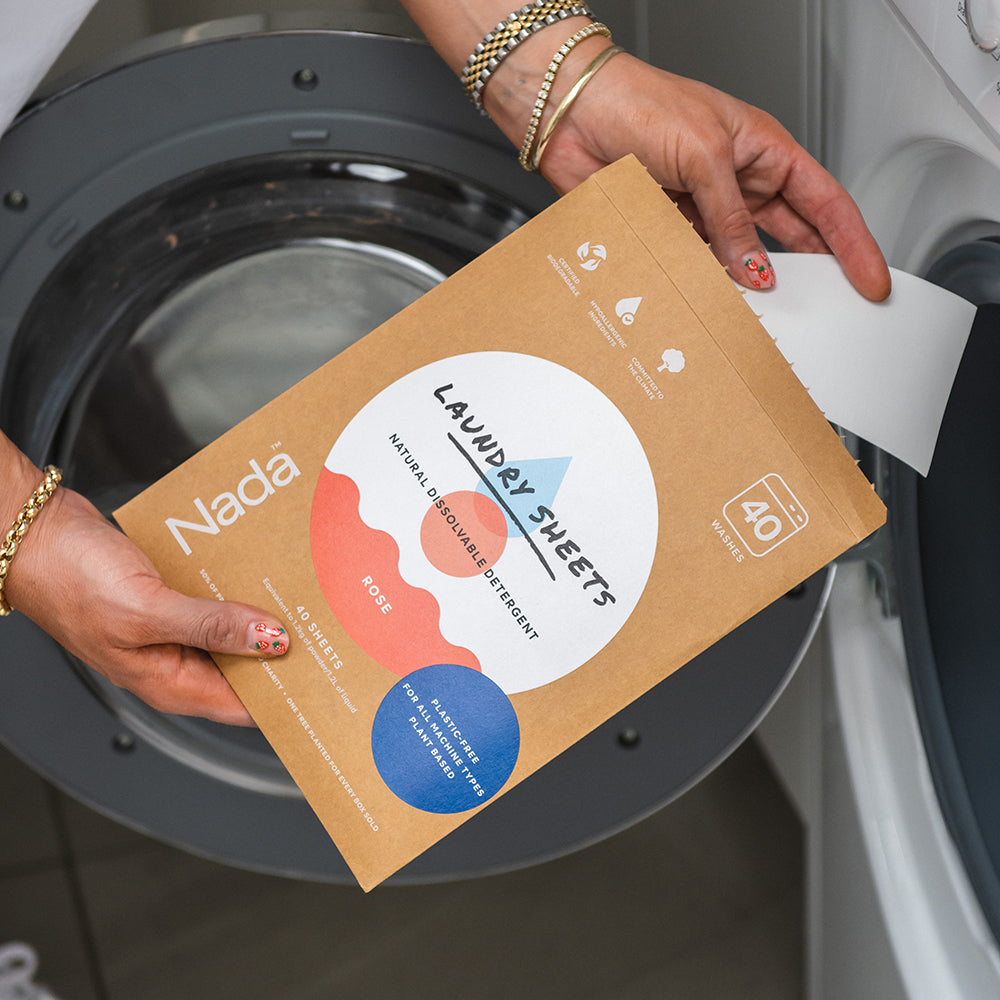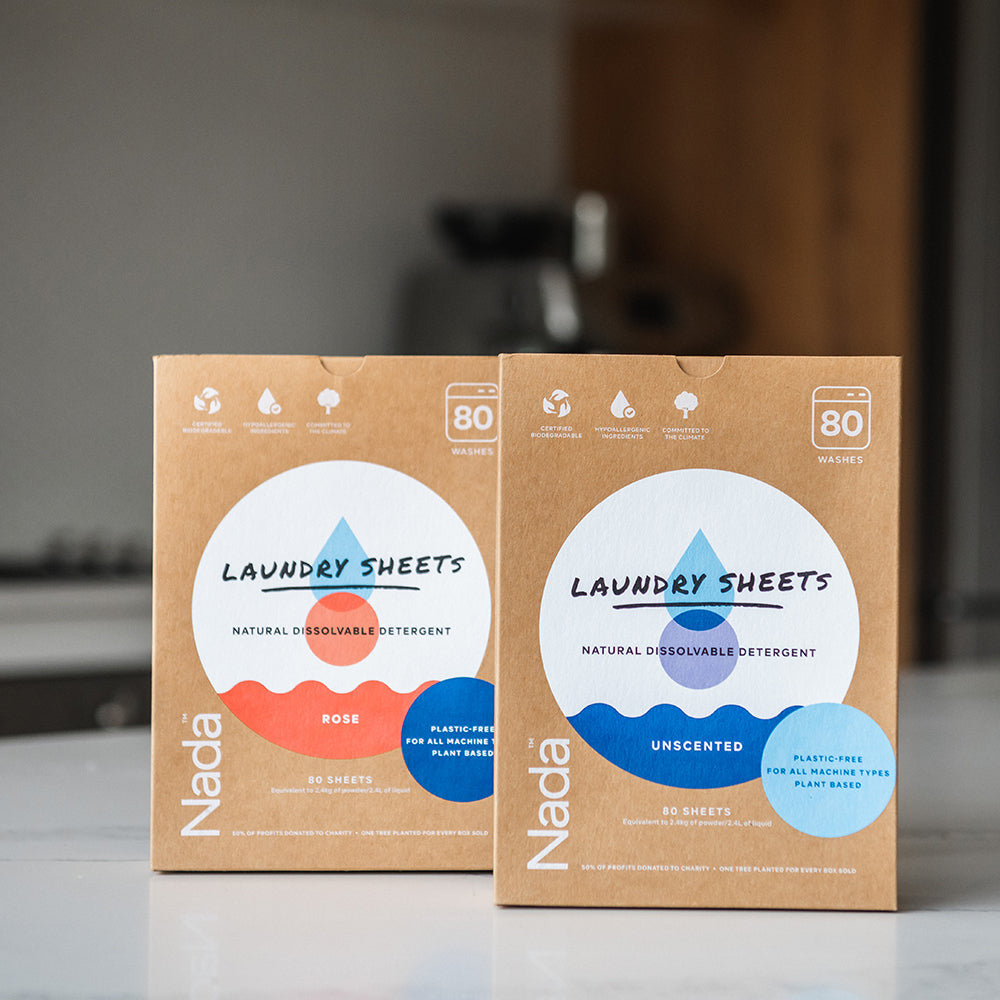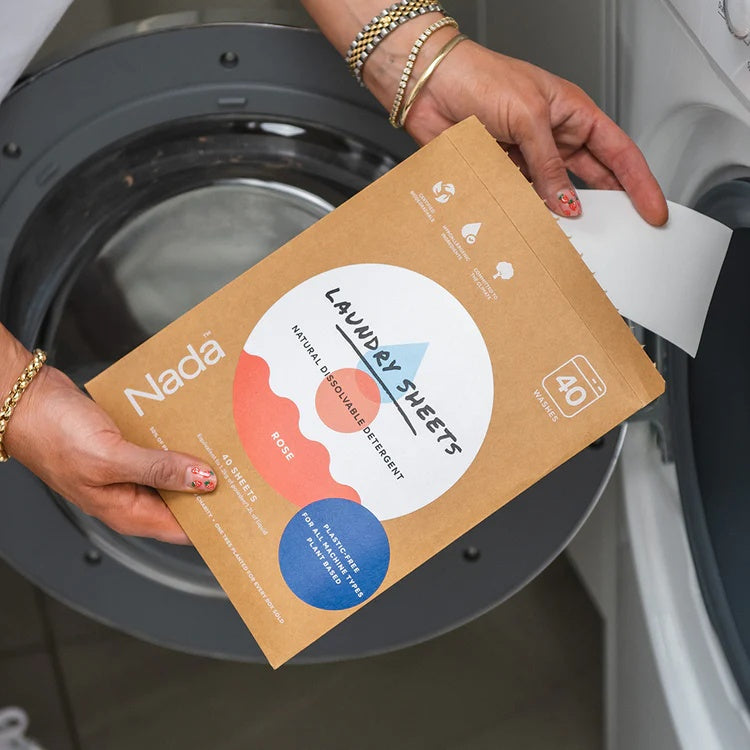 Introducing our latest laundry revolution: Nada Enzymatic Laundry Sheets! 
These little gems are here to make your laundry routine a breeze while giving Mother Earth a big high-five. Say goodbye to bulky bottles and hello to a whole new level of convenience.
Nada Laundry Sheets pack all the cleaning power you need into an easy-to-use ultra-concentrated dissolvable sheet. Just pop it into your washing machine with your washing, and you're good to go.
Our ultra-concentrated sheets are packed with superhero-like cleaning powers, ready to tackle even the toughest stains. Just toss a sheet into the washer, and watch it transform into a burst of enzymatic magic, gently dissolving dirt and grime. No need to measure or spill—these sheets are pre-measured for perfection.
These eco-friendly wonders are designed with the planet in mind. Using specially formulated biodegradable and hypoallergenic enzymes for superior performance, Nada Laundry Sheets are made from sustainable ingredients, without harmful chemicals. They are plant-based, phosphate-free, chlorine bleach-free, have no added-dyes, paraben-free, no optical brighteners, certified biodegradable (OECD 301B), certified septic and gray-water safe, hypoallergenic, completely free of single-use plastic and are packed inside our FSC® certified recycled and kerbside recyclable cardboard packaging
Imagine all the space you'll save in your laundry room, thanks to these compact and portable sheets. Whether you're on a road trip, heading to the laundromat, or simply want to simplify your routine at home, these sheets are always at the ready. Stick a pack in your suitcase, gym bag, or backpack, and let the laundry magic happen wherever you go.
So, why settle for ordinary laundry products when you can embrace the extraordinary? With our Ultra-Concentrated Eco Laundry Sheets, convenience meets eco-friendliness, resulting in the freshest, cleanest clothes and a happier planet. Join the laundry revolution today and experience a world where cleanliness and sustainability go hand in hand!
Features:
Suitable for both hot or cold wash & top or front loaders
For all Machine Types
Scents: Rose or Unscented
Size: 40 or 80 Sheets
Each sheet is equivalent to 30g of powder or 30ml of liquid detergent.
80 Sheets Equivalent to 2.4kg of Powder / 2.4L of liquid
Directions:
1 Sheet is 1 load of washing. Use 2 Sheets for a large or heavily soiled load.
Always pre-treat heavy or oil stains. Adjust the number of sheets to your preference.
Top Loader:
Add Clothes first
Add a sheet
Start the wash cycle
Front Loader:
Add a sheet
Add clothes
Start the wash cycle
Hand Wash:
Add a sheet to water and let dissolve first
Add clothing Soak clothing for 20 minutes
Shelf Life: 2 years from date of manufacture (see printed date on box)
Please note: Due to the nature of the enzyme formulation sheets may discolour or yellow over time, this is completely normal and does not impact performance.

As part of Nada's pledge to eliminate single-use plastics and promote sustainability, Nada has designed all products to be ethically sourced and sustainably manufactured using natural and synthetic ingredients inside independently audited sustainable facilities.

As part of our commitment to sustainability, Nada pledges to donate at least 50% of our profit to help look after the beautiful coastlines and waterways through Sustainable Coastlines and to also aid in reviving Kiwi forests through Trees That Count.

Nada is a proud supporter of 1% For The Planet – every year we will donate at least 1% of revenue to environmental causes.

Nada is a climate-positive company and we believe in leaving the world better than we found it. All emissions we generate are offset to at least 120% based on a yearly independent audit by Ekos.
Nice product
Pleased with the laundry sheets, they dissolve quickly and do a good job
Love these
Not only space saving, awesome concept, clothes very clean
Great product
Love the gentle but fresh smell of the laundry sheets. Items wash well and feel clean.
Convenient product
I am all for this product. Easy to use and dissolves completely. I moved to this sheet type from the bar types by Nada because I found they didn't dissolve completely.
I will continue to use on subscription basis. Tony
Nada Enzymatic Laundry Sheets
Excellent product once my samples are used I will be ordering - just love them
Note: Due to continual improvement, product look may vary from shown photos above. All weights and dimensions stated are only approximates.
Choosing a selection results in a full page refresh.