Multi-Surface Cleaner Refill Tablets
Regular price

$9.00

Sale price

$9.00

Unit price

per
Share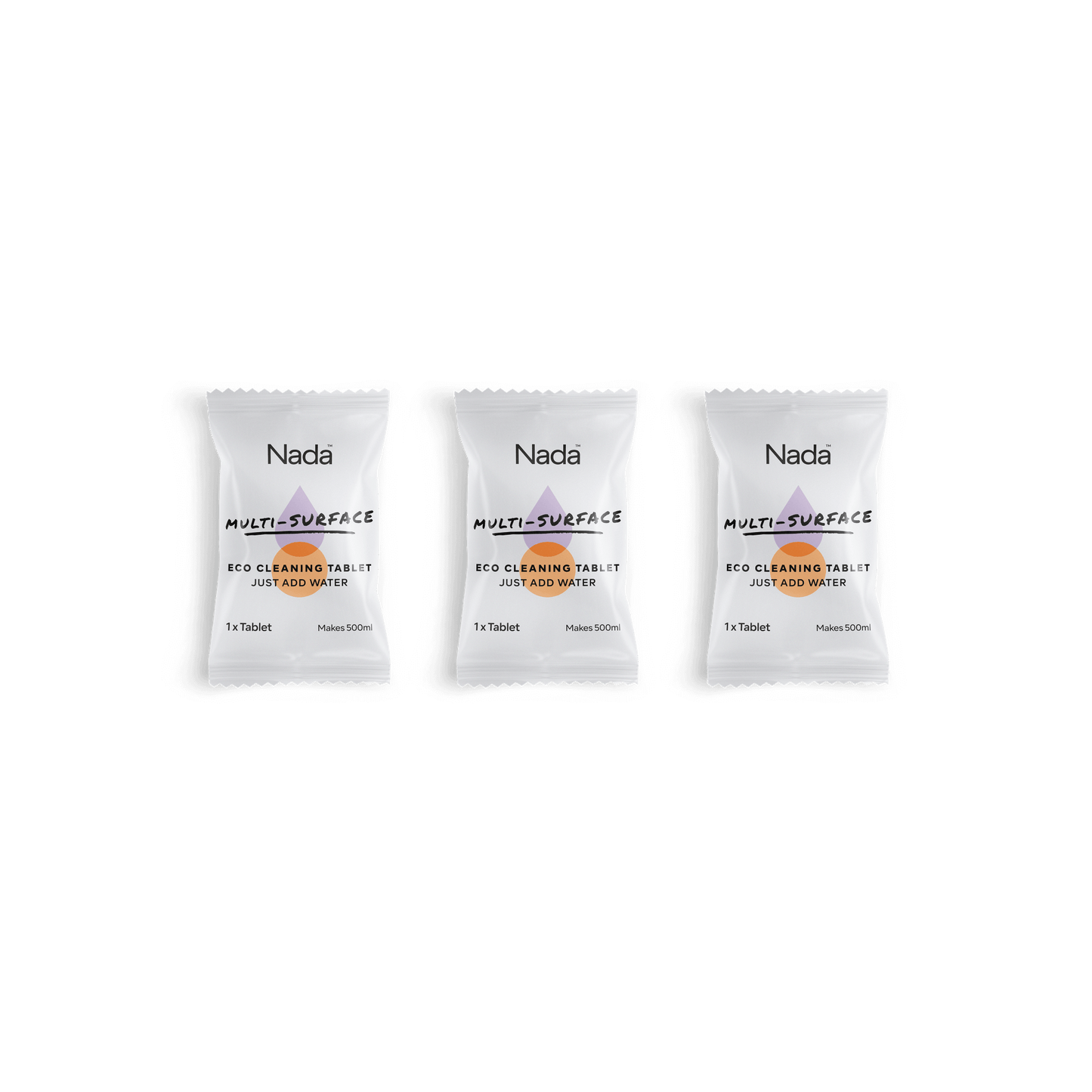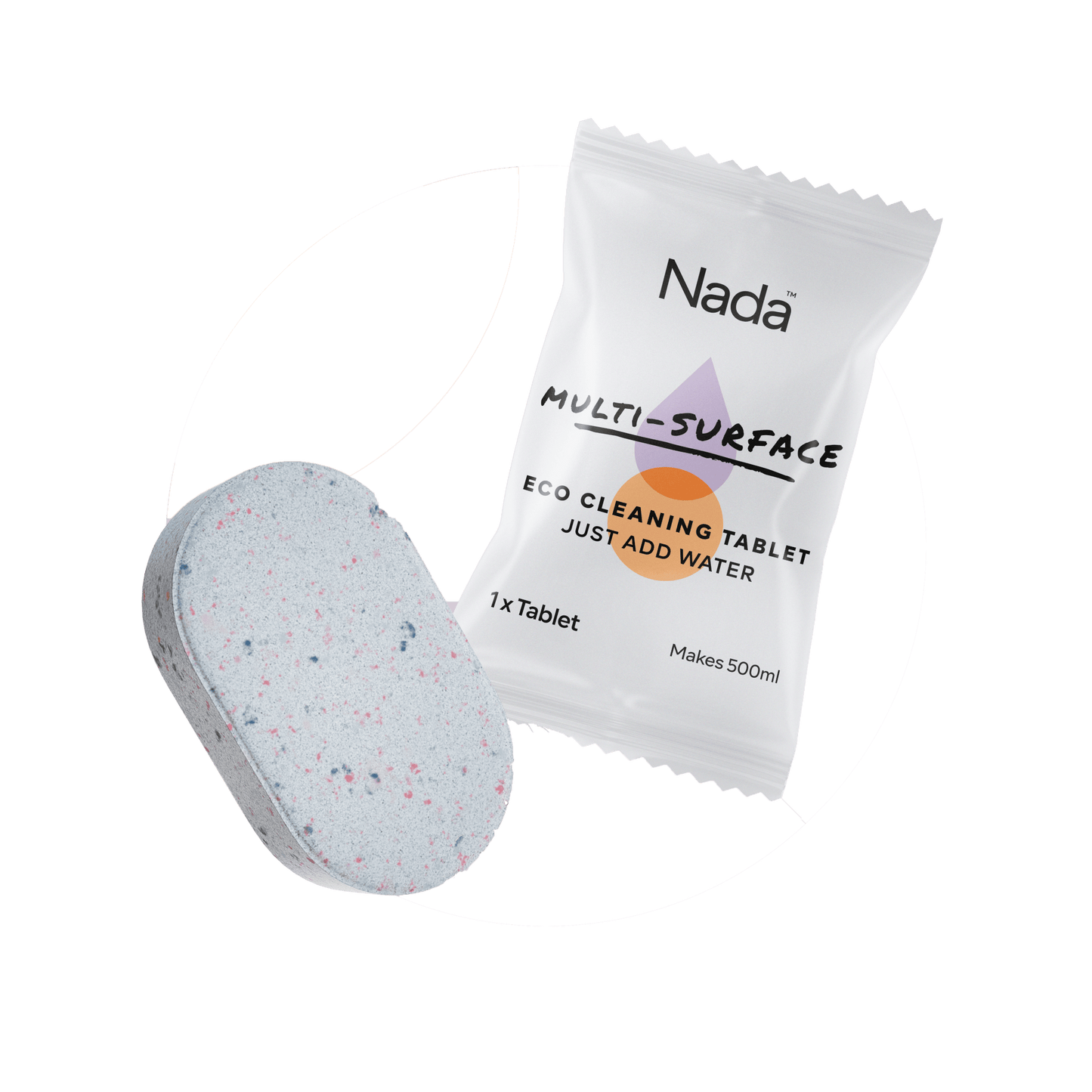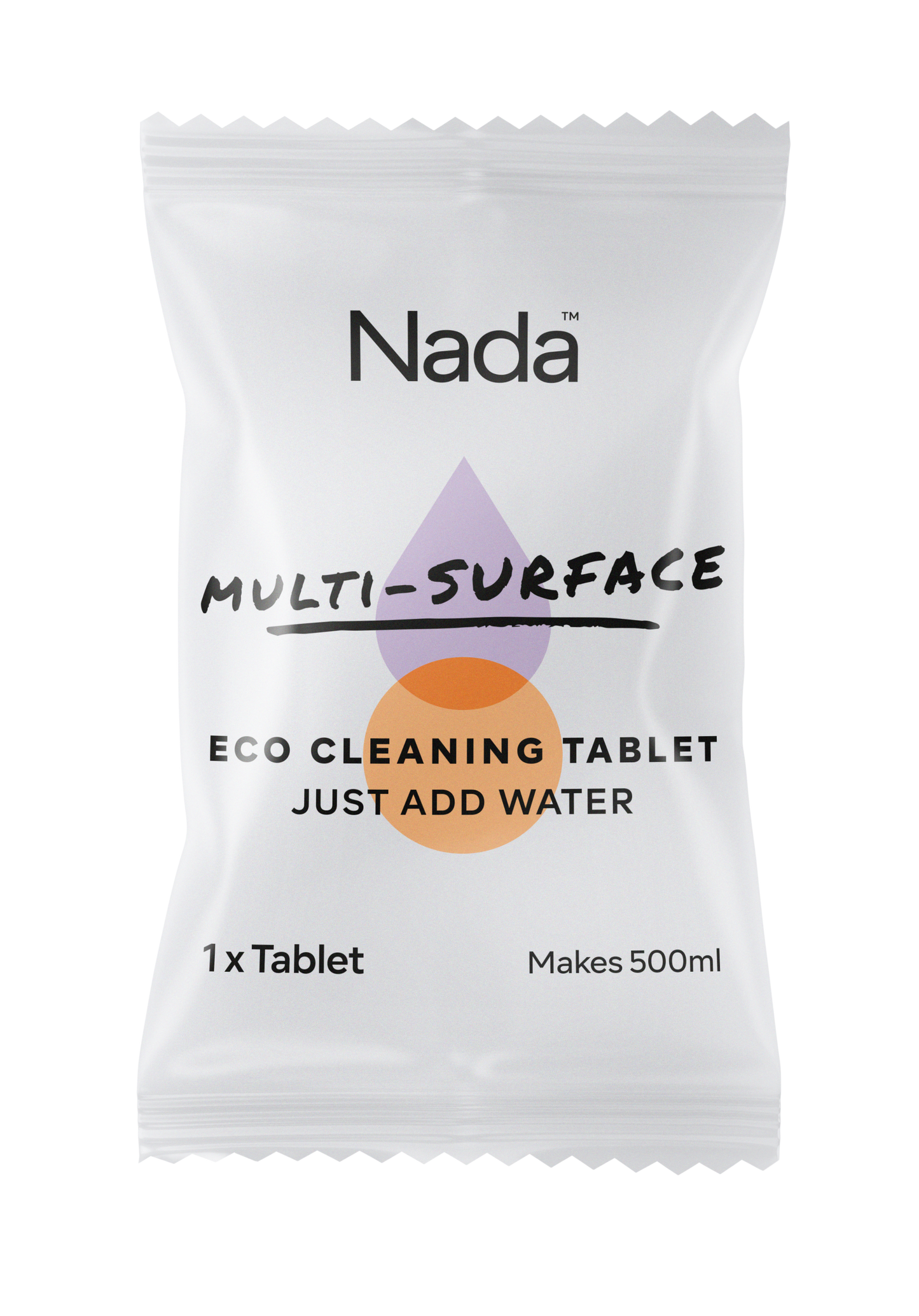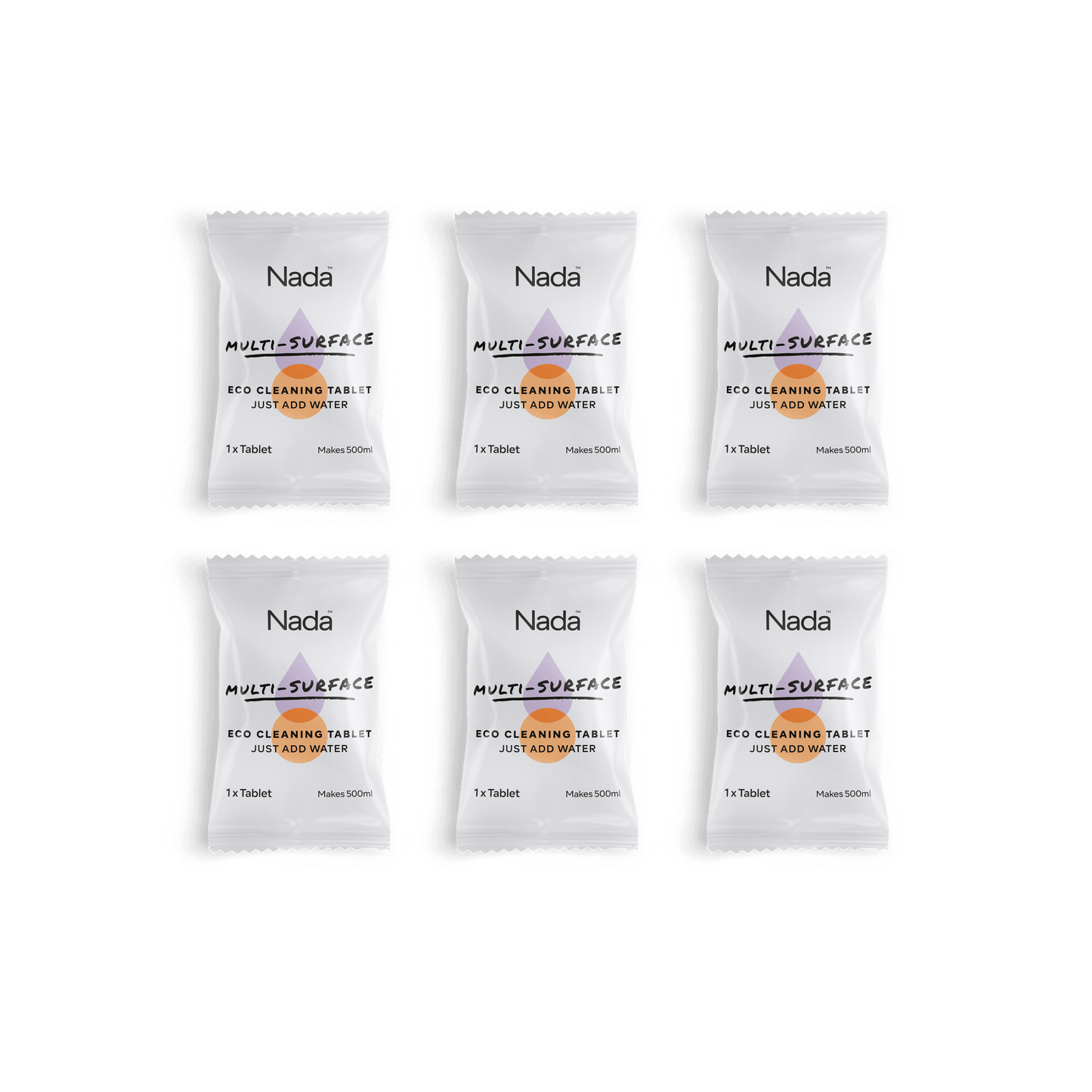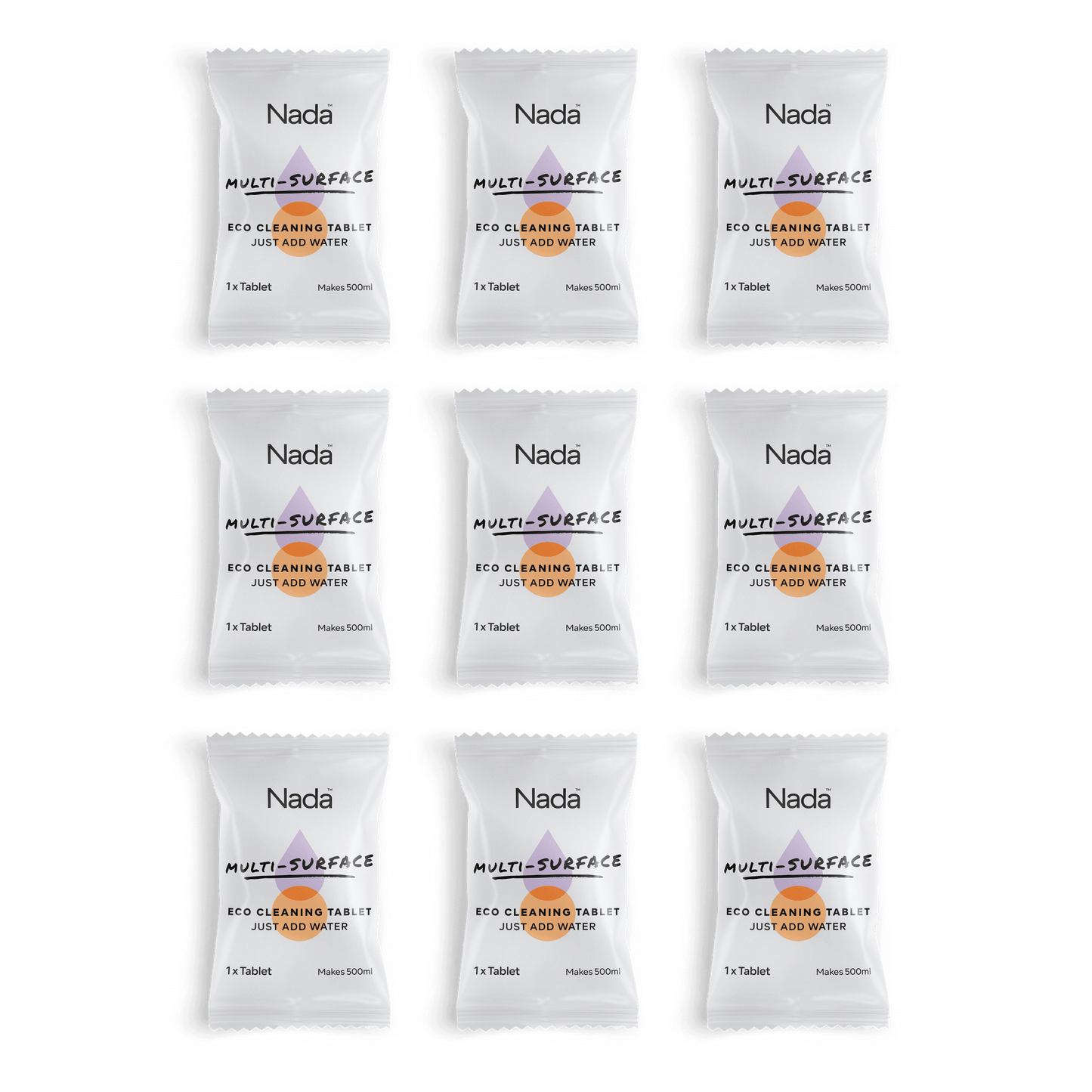 Nada Multi-Surface Cleaner is the perfect all-around cleaning partner for your home. Made with sustainable natural ingredients, our Multi-Surface Cleaner gives you sparkling clean without leaving behind any nasties for your home and for the environment.
To use: Simply fill the Lifetime Bottles with tap water and drop in a single Multi-Surface Cleaner Refill Tablet. Let it fizz… and you're ready to go!
Our refillable Lifetime Bottles are available as part of the Nada Starter Kit along with everything that you need for a sparkling clean home that is sustainable and single-use plastic free. Refill tablets are also sold in packs of 3, 6 or 9.
Each tablet makes up to 500ml of eco-friendly multi-surface cleaner, which replaces one single-use bottle of regular store-bought cleaners, yay!
The tablet measures 20mm x 33mm x 10mm and weighs 8 grams. Our tablets are packed in biodegradable kraft wrappers.
Ingredients
Sodium Carbonate Berol 226SA Sodium Sulfate Citric Acid Sodium Silicate PEG-6000 Sodium Benzoate Disodium EDTA Fragrance Colourant
As part of Nada's pledge to eliminate single-use plastics and promote sustainability, Nada has designed all products to be ethically sourced and sustainably manufactured using natural and synthetic ingredients inside independently audited sustainable facilities.

As part of our commitment to sustainability, Nada pledges to donate at least 50% of our profit to help look after the beautiful coastlines and waterways through Sustainable Coastlines and to also aid in reviving Kiwi forests through Trees That Count.

Nada is a proud supporter of 1% For The Planet – every year we will donate at least 1% of revenue to environmental causes.

Nada is a climate-positive company and we believe in leaving the world better than we found it. All emissions we generate are offset to at least 120% based on a yearly independent audit by Ekos.
Good product - smell is a bit female focused
Good product - smell is a bit female focused
Brilliant cleaner
Already onto my second bottle of this - use it for everything and it works so well. Especially on cutting through greasy messes in kitchen
Hoping it was just a user error
I haven't been able to get the tablets to dissolve properly for the multi purpose and I find the triggers don't bounce back very well, I have to push them every time I pull.
I 100% would purchase again because the products good I'm just hoping it's just this order
Just so pleasant
Pleasant is the best way to describe the multi surface cleaner. It smells a little bit floral with the hint of your favourite Nan'. I definitely give it a few extra squirts than I need to just because it's so lovely. Does a great job with clean up. I have already bought some more tabs to have on hand. Love that I won't get caught out with an empty bottle. Much easier than having to dash to the nearest refill station.
Note: Due to continual improvement, product look may vary from shown photos above. All weights and dimensions stated are only approximates.
Choosing a selection results in a full page refresh.